Rapid Covid-19 Saliva Testing In Atlanta Is Here
TEST FOR COVID-19 IN ATLANTA TODAY WITH OUR RAPID SALIVA TESTING
RAPID COVID-19 SALIVA TESTING IN ATLANTA GARDENS IS UNIQUE IN 4 WAYS
You don't have to stick an uncomfortable swab up your nose, which will increase testing compliance. This also protects healthcare workers from potential exposure to sick patients and works around worldwide swab shortages. We also found that expensive preservatives are not needed to test saliva, which lowers the costs.
Rapid COVID-19 Saliva Testing Is Extraction-free
Nucleic acid extraction is time-consuming and expensive, and there have been worldwide shortages of the supplies needed to do it. For SalivaDirect™, Yale University has worked out how to skip this step, making it more accessible.
Accurate COVID-19 SALIVA TESTING
Vitality Sciences' SalivaDirect method reflects 100% Clinical Specificity and 94% Clinical Sensitivity.
COVID-19 SALIVA TESTING IS FLEXIBLE
While many labs have similar equipment, they may be from a different company, and all of these need to be authorized by the FDA. We are aiming to validate our method with as many different variations of equipment and reagents as possible to allow labs to work with what they have and to prevent shortages. If your equipment isn't on our list, let us know and we will work with you.
WHAT IS SALIVADIRECT™ COVID-19 SALIVA TESTING?
HOW DOES SALIVADIRECT™ WORK?
It's actually very simple. Our body's IgM's are the first line of defense in fighting the virus. If you are positive for IgM, it means you have been exposed to the virus within the past 3-5 days . A positive test means you have the virus and should self quarantine for at least 14 days. An IgG positive test means that you were exposed to the virus 3-4 weeks ago and now have the antibodies to fight the disease.
RAPID COVID-19 TESTING PRIORITY SERVICE
FOR PRIORITY SERVICE, PLEASE CALL US DIRECTLY AT 561-767-8225.
WHILE WE DO ANSWER EMAILS AS QUICKLY AS POSSIBLE, IT IS BEST TO CALL DIRECLY. EVEN DURING NON-OPERATING HOURS CALLS ARE FORWARDED TO A VITALITY SCIENCES EMPLOYEE WHO WILL GET YOU SITUATED WITH YOUR RAPID COVID-19 TEST.
SALIVADIRECT™ AND STABILITY FOR COVID-19 TESTING
Stability of spiked-in saliva samples used for the limit of detection experiment was determined by placing 3 different concentrations (12, 25, and 50 copies/µL) for 7 days under different temperature regimes (4°C, room temperature, and 30°C). Results were compared to results obtained in the limit of detection experiment (fresh). Samples were treated with ThermoFisher Scientific proteinase K and tested with the ThermoFisher TaqPath RT-qPCR kit on the Bio-Rad CFX96. Overall, samples were stable under each condition for at least 7 days.
SALIVADIRECT™ AND CROSS-REACTIVITY FOR COVID-19 RAPID TESTING
In addition to cross-reactivity tests performed by the CDC, Yale has tested SalivaDirect™ on 52 saliva specimens collected from adults during the 2018/2019 and 2019/2020 (pre-COVID19) autumn/winter influenza seasons and detected 51 negative, and 1 invalid results.
CLINICAL VALIDATION OF COVID-19 SALIVA TESTING
Performance of SalivaDirect™ was compared to the authorized ThermoFisher Scientific TaqPath RT-PCR COVID-19 kit by testing 37 paired positive and 30 paired negative nasopharyngeal (NP) and saliva samples. Nasopharyngeal swabs and saliva were collected from inpatients and healthcare workers in the Yale-New Haven Hospital. Saliva was collected in sterile urine cups or 5 mL tubes without addition of any preservatives. The ThermoFisher Scientific TaqPath COVID-19 combo kit combines RNA extraction using the MagMax Viral/Pathogen Nucleic Acid Isolation Kit with a multiplex RT-PCR diagnostic assay targeting 3 regions of the SARS-CoV-2 genome (N, S, and ORF1ab). For SalivaDirect™ we used the ThermoFisher Scientific proteinase K, ThermoFisher Scientific TaqPath RT-PCR kit, and Bio-Rad CFX96 instrument.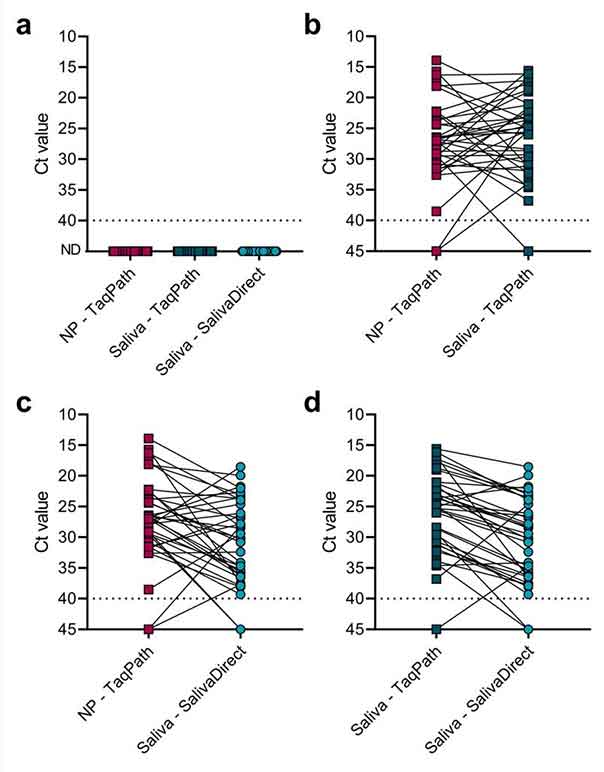 Yale University selected the positive and negative pairs based on preliminary results of our modified research protocol based on the US CDC primer-probe sets. Out of the 37 nasopharyngeal swabs that were tested with the TaqPath COVID-19 kit, three specimens tested negative (Ct value cut-off of 37). However, earlier results with the modified CDC assay indicated a (weakly) positive signal, and the paired saliva specimen tested positive with both SalivaDirect™ and the TaqPath COVID-19 kit. Two saliva specimens tested negative for SalivaDirect™ while the NP swab and saliva tested positive or inconclusive with the TaqPath COVID-19 kit.
All negative NP and saliva specimens tested negative with both the TaqPath COVID-19 kit and SalivaDirect™.